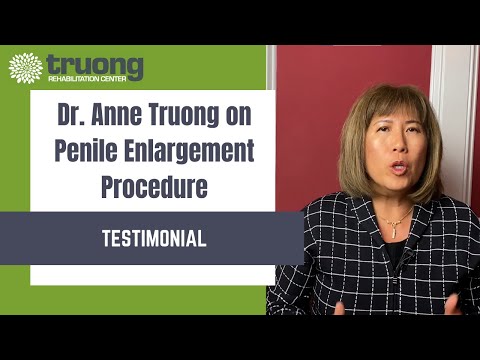 You don't need to read all the clinical studies to know that sex is good for you – physically, mentally, and spiritually. It can spice up your relationship – even keep it alive. So, when you're struggling to get or maintain an erection, it can be devastating. Does size matter? If your penis girth just isn't entirely satisfying your partner, it sure does. According to one study published in the British Journal of urology that looked at 15,000 men, the result showed the average length of a flaccid penis is 3.6 inches while the average length of an erect penis is 5.2 inches. The average girth is 3.7 inches for a flaccid penis and 4.6 inches for an erect penis.
You may have found what you thought were the best male enlargement pills –only to suffer debilitating side effects. You may have attempted male enhancement exercises – only to find it just wasn't enough. You may even have experienced the limitations of the traction device.
Dr. Truong understands.
That's why she's spent years studying and delivering the most innovative, double-action therapy available: penis enlargement with Platelets Rich Plasm (PRP) and a poly-L-lactic acid (PLLA) collagen stimulator (Sculptra).
PRP injection can add volume to your penile tissue, improve your sensation, and even expand your girth – so you can enjoy sex as much as your partner will after your enhancement.
You don't have to suffer in silence anymore. Schedule your penile enlargement consultation in Fredericksburg, VA, by contacting Dr. Truong at contact us here.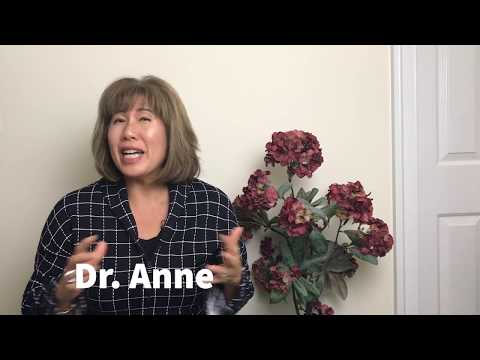 What Can PRP Do for You?
Platelet Rich Plasma has been successfully utilized for over 30 years. PRP therapy uses your blood, which contains platelets with growth factor-rich proteins. The platelets can stimulate your tissues to have more blood flow. PRP injected into the penile tissue has fewer risks than pharmaceuticals and surgery. It's highly improbable to have rejection or allergic reaction to PRP.
Once the PRP is delivered into your penile tissue, their growth factors, cytokines, and chemokines may:
Activate T-cells to secrete proteins
Improve your erection and stamina
Migrate to your weakened penile tissue
Open up your blood vessels and form new ones
Potentially increase your girth
Transport cells out of your blood vessels and into the tissues surrounding them
Your Penile Enlargement
First, Dr. Truong will examine you to determine whether you're a good candidate for penile enlargement. Then she'll explain how to prepare for your procedure. You'll need to stop taking any anti-coagulant, steroid, and NSAID medications. You'll also need to drink plenty of water (but no alcohol) and rest before coming in. Once you're completely comfortable, Dr. Truong will anesthetize the region with a regional nerve block.
Dr. Truong will draw a blood sample from your arm (typically about two ounces) and spin it in a centrifuge, separating it into three layers: red blood cells, platelet-poor plasma, and platelet-rich plasma.
Then, Dr. Truong will inject PLLA filler above Buck's fascia to create volume on both sides of the penis to increase girth. Followed by PRP in the same area, this allows the PRP to bind with the PLLA.
Shockwave therapy is delivered to the newly filled volume to smooth out irregularities and bring more blood flow to the penis for healthy healing.
The procedure takes anywhere from 45 to 90 minutes. You may experience some soreness afterward, but it will subside in a day. Dr. Truong will instruct you to use a penis pump to induce tissue oxygenation for healing and growth for several weeks.
Maximum penis enlargement usually takes up to three months, but you'll start noticing improvement in 2-4 weeks in most cases.
Results can last up to 2-5 years, depending on the type of filler.
Video Testimonials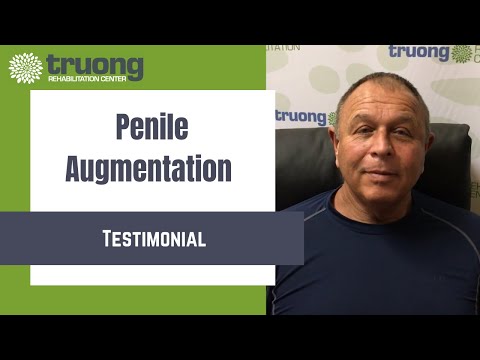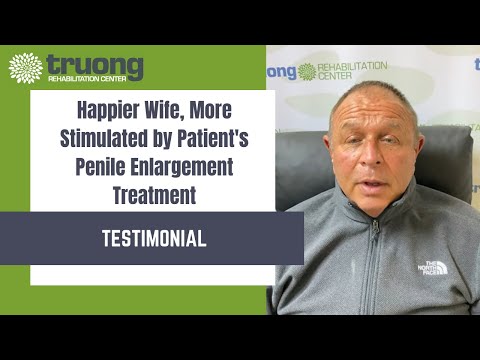 Schedule your consultation today
Don't let insecurity about your size or stamina keep you from enjoying the healthy sex life humans were meant to enjoy. Schedule a discrete consultation with the compassionate Truong Rehabilitation Center sexual health specialists at contact us here.
Penile Enlargement Research
Mayo Clinic Staff. (2014, May 28). Penis-enlargement products: Do they work? Retrieved from
mayoclinic.org/healthy-lifestyle/sexual-health/in-depth/penis/art-20045363
Nikoobakht, M., Shahnazari, A., Rezaeidanesh, M., Mehrsai, A., & Pourmand, G. (2011, November). Effect of penile-extender device in increasing penile size in men with shortened penis: Preliminary results. Journal of Sexual Medicine, 8(11), 3188-3192
ncbi.nlm.nih.gov/pubmed/20102448
Penile augmentation: The foundation's recommendation on penile augmentation. (n.d.)
urologyhealth.org/urologic-conditions/penile-augmentation
Am I normal? A systematic review and construction of nomograms for flaccid and erect penis length and circumference in up to 15 521 men
https://bjui-journals.onlinelibrary.wiley.com/doi/full/10.1111/bju.13010
Eisenman R. (2001). Penis size: Survey of female perceptions of sexual satisfaction. DOI:
10.1186/1472-6874-1-1
Mondaini N, et al. (2002). Penile length is normal in most men seeking penile lengthening procedures [Abstract]. DOI:
10.1038/sj.ijir.3900887
Prause N, et al. (2015). Women's preferences for penis size: A new research method using selection among 3D models. DOI:
10.1371/journal.pone.0133079
Tran H, et al. (2017). Penile lengthening, girth, and size preservation at the time of prosthesis insertion [Abstract]. DOI:
10.1016/j.sxmr.2016.11.005
Veale D, et al. (2015). Am I normal? A systematic review and construction of nomograms for flaccid and erect penis length and circumference in up to 15,521 men.
onlinelibrary.wiley.com/doi/10.1111/bju.13010/full
Wessells H, et al. (1996). Penile length in the flaccid and erect states: Guidelines for penile augmentation [Abstract]. DOI:
10.1016/S0022-5347(01)65682-9
Wylie KR, et al. (2007). Penile size and the 'small penis syndrome.' DOI:
10.1111/j.1464-410X.2007.06806.x